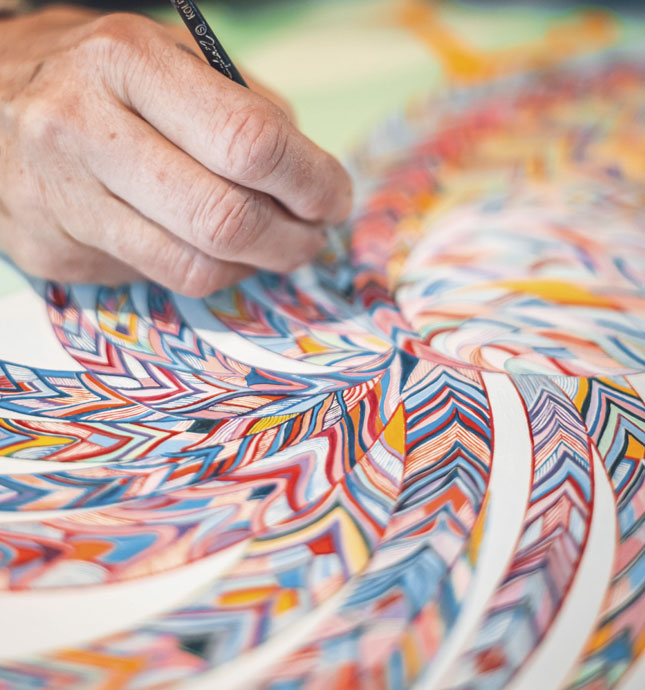 A meticulous work carried by the color
Since childhood, Monik has been drawing and the line is still the basis of each of her paintings : " The drawing is above all a support to the color and the fantasy. Whatever the pattern chosen, it serves as a support for the colors I apply without worrying about reality."
Initially attracted by gouache, she now practices acrylic which she applies by colored touches on paper sheets close to the "raisin" size (50X70cm) or square (50X50cm). Each Monik's works is unique and presented framed with glass and a "passe-partout".
"I don't have a workshop because I like this moment that I grant myself by passion as some could do with reading." When she wants to paint, Monik sits on the living room table of her Bressane farm, located in Burgundy, close to the Jura. She begins by drawing the basis of her composition with a paper pencil on her paper sheet : rathe structured when it comes to a work of natural inspiration. Her geometric creations are made more instinctively, more spontaneously, but always begin with a drawing, in the center or the corner of the sheet. Then Monik lets herself be carried by the color.
Each creation requiring on average 150 hours, it is then a meticulous but free work that begins : " My painting exceed my thought and the title often arrives at the end of the creation of a work." To learn more about her creations, contact her.contactez-la !